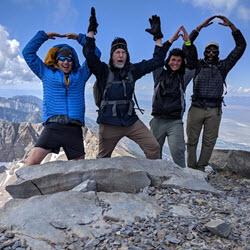 GBEX (Great Basin research Experience) is an annual physical geography field research excursion to Great Basin National Park. From left to right, Bryan Mark, Jim DeGrand, Aiden Dalby (Geog BS student) and David Porinchu
Great Basin Experience 2019
Three undergraduate students participated in this year's Great Basin expedition (GEOG majors Sydney Smith and Aiden Dalby, along with Evan Vega of Engineering and on the Mountain Drone Team) along with faculty Bryan Mark and Senior Researcher and Lecturer Jim DeGrand, former OSU and current University of Georgia colleague David Porinchu, and Scott Reinemann (OSU PhD in Atmospheric Science, 2013). The team successfully completed mapping the Lehman rock glacier, took new tree cores, and maintained their embedded sensor network spanning 2000 m vertically from desert floor to 13,000 ft Wheeler Peak. This project has been supported by the Western National Park Association and the Department of Geography.
Faculty News:
Steven Quiring and Emily Castellucci were both selected into the Digital Flagship Educators program, designed to enable excellent teaching that incorporates active learning, student-centered course design and digital literacy development.
Student News:
Jiayong Liang successfully defended her dissertation last week, titled "Flood Mapping in Riverine and Coastal Urban Areas Using Multi-sensor Imagery and Multi-source Information." Her committee consisted of Ethan Kubatko (Civil, Environmental and Geodetic Engineering), Srinivasan Parthasarathy (Computer Science and Engineering), Steven Quiring, and Desheng Liu (Advisor). Ness Shroff from Electric and Computer Engineering served as the Grad Faculty Representative. Jiayong is heading to New York City, where she will begin her new job as a remote sensing scientist at Cloud to Street
Alumni News:
Austin Kocher (PhD Geog 2017) has accepted a Faculty Fellow appointment at the Transactional Records Access Clearinghouse (TRAC), a joint research data center of the S. I. Newhouse School of Public Communications and the Martin J. Whitman School of Management at Syracuse University. TRAC is one of the nation's top clearinghouses for data and research on immigration law, criminal justice, and government transparency. As a Faculty Fellow, Kocher will apply his qualitative and quantitative background in immigration research to analyze and publish up-to-date research on the constantly-shifting landscape of immigration policy and practice.
Scott Reinemann (PhD ASP 2013) is now Assistant Professor of Geography at Sinclair Community College.
Upcoming Events:
Monday, August 19th is our Annual Meet & Greet.
Tuesday, August 20th is the first day of classes.
Darla Munroe
Professor and Chair