December 18, 2020
News Brief from Our Chair, Darla Munroe.
Image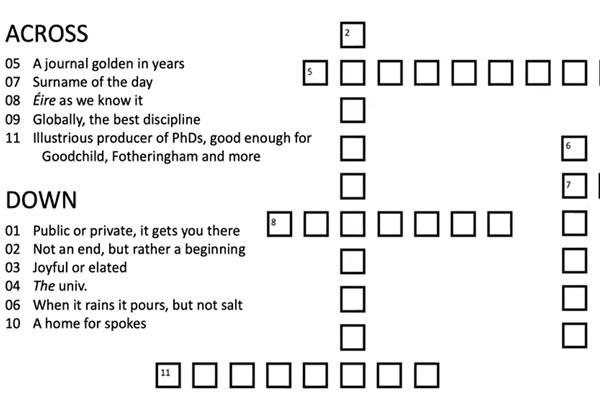 Description
Crossword puzzle in honor of Morton O'Kelly's retirement from OSU, made by Rachel Franklin. 
Student News: 
Guillermo Bervejillo successfully defended his dissertation, "A New Dependency? On the Economic Geography of China-Latin America Relations." His exam committee included Max Woodworth, Abril Trigo (Spanish), Trevor Barnes (Geography, UBC), Nick Kawa (Anthropology), and Joel Wainwright (advisor).

Ashley Toenjes successfully defended her dissertation, "Locating Palestine." Her committee consisted of Kendra McSweeney, Becky Mansfield and Noah Tamarkin (Anthropology, Cornell) and Mat Coleman (advisor).

Jaret Waters, Spanish and Economics major with minors in Portuguese and Geography received a $6,000 Undergraduate Research Scholarship from the ASC Honors program, for his proposed research on "Venezuelan Migration in Brazil." He is supervised by Kendra McSweeney
Alumni News: 
Jill Clark, (PhD Geog, 2009) associate professor in the John Glenn College of Public Affairs has received a Seed Fund for Racial Justice grant. She leads a transdisciplinary team of researchers from Ohio State and leaders from the City of Columbus' Department of Neighborhoods seeking to address the qualities of inclusive, equitable and anti-racist local public participation environments.

Two former graduate students of this Department feature in the latest news from the Regional Studies Association. John Agnew (1976) is the new President of the Association; Jessie Poon (1993) is the new Chair. Congratulations to both. 
Upcoming Events: 
Spring Semester classes being January 11th.
The first two weeks of Spring Semester will be virtual only.
This will be the last update of the year. Happy Holidays and all the best for 2021!

Darla Munroe
Professor and Chair
---