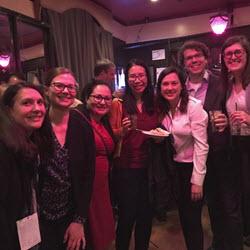 OSU Alumni Party at the 2019 AAG. From left to right: Christine Biermann, Zoe Pearson, Naomi Adaniya, Sandy Wong, Lauren Hines, Jonathan Rush and Justine Law.
Faculty News:
Harvey Miller has been appointed to the Advisory Board of EmpowerBus, a local pro-social business that provides microtransit solutions to communities in need.

Elisabeth Root and colleagues have been awarded a $65.9M NIH grant to address the opioid crisis in Ohio. From the news release: "The new Ohio initiative, announced today as part of the federal HEALing Communities Study, will use real-time research to focus prevention, treatment and recovery programs in the state, which has been hit especially hard by opioid deaths. The study will focus efforts in 19 Ohio counties."

Joel Wainwright is in New York City today, participating in meetings at the SSRC on climate and social change. Joel recently published two new papers: one in Rethinking Marxism, on Rosa Luxemburg and Antonio Gramsci; another in Water, on fluxes of stream nutrients in southern Belize (PhD alumni Shiguo Jiang is a coauthor).
Student News:
Rebecca Chapman (MA student, Darla Munroe, advisor) developed an updated web map application for the US EPA's Sustainable Management of Food. Version 2.0 of the "Excess Food Opportunities Map" is now available. This interactive map supports diversion of excess food from landfills and now displays the restaurants and food services sectors in addition to numerous other generators and recipients of excess food.

Nora Sylvander defended her dissertation entitled "Making Space of Difference: Spatially Exclusionary Policies in Resolving Natural Resource and Territorial Conflicts in the Bosawas Biosphere Reserve, Nicaragua." Her committee included Becky Mansfield, Kenneth Madsen, and Kendra McSweeney (Chair).
Alumni News:
Jed DeBruin (BA Geography, cum laude, 2017) just defended his Master's thesis from Geography at the University of West Virginia (advisor Bradley Wilson) and will be starting a PhD in Geography at the University of Kentucky in the fall.
Upcoming Events:
Finals week is April 24th - 30th. Good luck to all!
Darla Munroe
Professor and Interim Chair