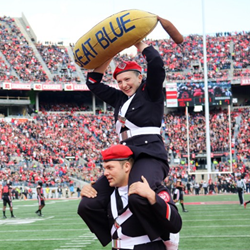 GIS Alumna Lindsay Hostetler, Script Ohio "i-dotter." Source: Kevin Leonardi
Faculty News
Steven Quiring ran a workshop in the Sharpe Innovation Commons on Cloud Computing on October 23. Quiring and graduate student Zack Leasor worked with the students attending to develop Virtual Machines in the Amazon Web Service cloud running code to scrape USGS data and create maps.

Elisabeth Root will give a talk at the Pew Research Center in Washington, D.C. today on how to integrate GIS and Geospatial analysis into field studies.

Joel Wainwright just returned from twelve days of fieldwork in southern Belize dedicated to studying environmental change in Maya communities. Joel's latest publication (coauthored with three others) reflects one element of this research: "Landscape drivers and social dynamics shaping microbial contamination risk in three Maya communities in southern Belize," forthcoming in Water.
Student News
Blake Acton (MA student) and Deondre Smiles (PhD candidate) have been chosen to be part of the East Lakes World Geography Bowl team, competing at the AAG meeting in Washington, DC in April.
Alumni News
Lindsay Hostetler (BS in GIS, 2018, pictured above) now works as mapping technician for the Franklin County Engineers Office. She enrolled in the marching band as a continuing education student.

Sandy Wong (Geography MA '13) will be Assistant Professor in the Department of Geography at Florida State starting Spring '19.
Upcoming Events
GeoWeek is next week, Nov 13-16! As part of GeoWeek, GIS Day is on Wednesday.
Our next speaker in our colloquium series "Global Africa" is Dr. Leo Zulu of MSU. Friday, November 16th, 3:30 pm