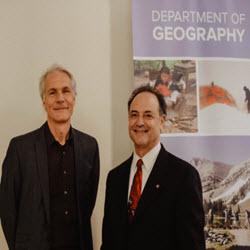 Professor Ola Ahlqvist stands with Professor Gil Latz, incoming Vice Provost of Global Strategies and International Affairs. Photo: Maeve Scully.
Faculty News:
Professor Bryan Mark and five students presented research at the national meeting of the Geological Society of America in Indianapolis last week. Three of the talks featured the Department of Geography Great Basin Research Experience (GBEX). More on the student presentations below.

Student News:
Kenza Kamal (BA joint degree student Public Affairs and Political Science, Geography minor; advisor Madhumita Dutta) and Maeve Scully (BA student in Geog, advisor Darla Munroe) were awarded Undergraduate Research Scholarships from the Arts & Sciences Honors Committees. Kenza's research is exploring the special economic zones in Pakistan with a post colonial lens. Maeve is using photography as a tool for geographic analysis of urban gentrification patterns.

At the GSA meeting, James White (BS student, dual major, Atmospheric Science and Earth Sciences) was an invited speaker at an undergraduate research session, and he presented findings from both his summer internship experience researching fire weather at the Alaska Center for Climate Assessment and Policy (ACCAP) as a NOAA Hollings Scholar, and his research reconstructing fire history of Great Basin National Park from charcoal in sediment cores.

MS student Emily Sambuco and PhD student Forrest Schoessow gave sequential talks at GSA on the GBEX embedded temperature and humidity sensors and mapping the Lehman rock glacier with high-resolution aerial images (using balloons and drones), respectively. Funding from Western National Parks Association, Dept of Geography, and the Gary and Connie Sharpe Innovation Seed Grant Fund gratefully acknowledged. PhD student Emilio Mateo, MA student Jeff Gunderson and Bryan Mark presented on their research in the Peruvian and Bolivian Andes on debris covered glaciers, tree rings, and Quaternary deglaciation.

Sam Kay (PhD candidate, advisor Max Woodworth) has been awarded the Presidential Fellowship for next year. This fellowship is the most prestigious award given by the Graduate School.