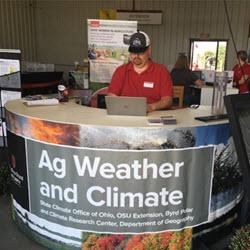 Aaron Wilson (PhD 2013, ASP) hosts a booth at the Farm Science Review to answer questions on weather and climate's implications for Ohio agriculture.
Faculty News:
Kendra McSweeney was featured in a recent ASC Spotlight.

Harvey Miller gave an invited lecture in the Methods: Mind the Gap Webinar Series of the National Institutes of Health Office of Disease Prevention (ODP) on September 19: "Geospatial data for healthy places: Building environments for active living through opportunistic GIScience." His lecture discussed how to use geospatial technologies and science to conduct real-world experiments on the impact of changes in the built environment on healthy physical activity.

Darla Munroe is part of a team that won a Partnerships for Enhanced Engagement in Research (PEER), award, administered by the U.S. National Academies of Sciences, Engineering, and Medicine (NASEM). The project "Identifying conditions for successful landscape-scale conservation policy implementation in Vietnam" will be led by Dr. Thuy Thu Pham of the Center for International Forestry Research in Hanoi, Vietnam.
American Electric Power has provided a second year of funding to Steven Quiring and Seth Guikema (U Michigan) to support their power outage modeling project. They are developing models to predict the impact of weather on the electric power system in 7 AEP operating companies (Ohio, Texas, Kentucky, Oklahoma, etc.). This project will also fund work on vegetation management, that will be led by Desheng Liu. This project will support a graduate student and a post-doc in Geography at OSU. It is in collaboration with the University of Michigan.
Student News:
PhD Geog student Jialin Li traveled to present at GeoComputation2019 in Queenstown, New Zealand. His presentation was titled, "Using Machine Learning Methods to Identify and Classify the Regions and Projections of Online Maps".
Alumni News:
Aaron Wilson (PhD 2013, ASP) is an Atmospheric Scientist who holds a joint appointment as a Senior Research Associate at the Byrd Polar and Climate Research Center (BPCRC) and climate specialist with OSU Extension-the outreach arm of the College of Food, Agricultural, and Environmental Sciences. He is also a contributing member to the State Climate Office of Ohio
Darla Munroe
Professor and Chair