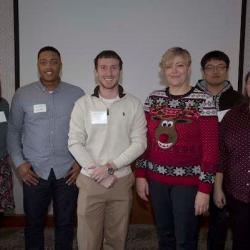 Department of Geography Autumn Reception, 2019. Our outstanding students (left to right): Claire Mercer, (Lewis Family Scholarship), Kendall Brooks (BA-URGS, AU19), Ethan Carver-Dews (BA-Social Sciences Air Transportation, AU19), Darla Munroe (chair), Luyu Liu (GEOG-MA SU19) and Stephanie Crisco (BA GIS, AU19). (See full picture below)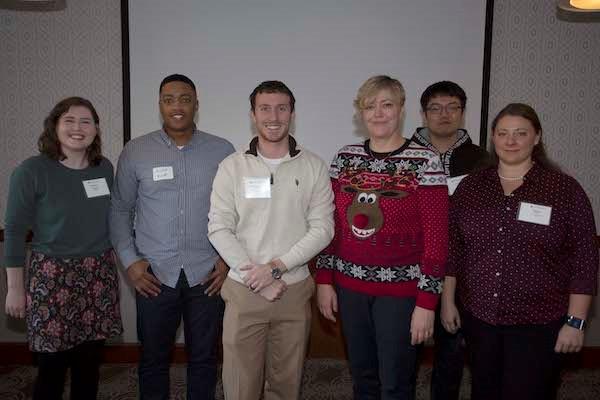 Faculty News:
Madhumita Dutta, Arati Maleku (Social Work), and Binaya Subedi (Education) have been awarded an Institute for Population Research seed grant to study precarious work and mental well-being among Bhutanese Nepali refugees in Central Ohio. Elisabeth Root will serve as the faculty mentor on the project. Bhutanese Nepali refugee community has been identified as an at-risk population by the Center for Disease Control and Prevention and the Ohio Mental Health & Addiction Services due to high rates of suicides, PTSD, depression and substance use. The research will bring fresh insights into the conditions of precarity related to work and associated mental health/well-being in the refugee community.

Kendra McSweeney and Antoinette WinklerPrins (National Science Foundation) have edited a special issue of Geographical Review: Fieldwork in the 21st Century. There are 19 essays, including an introductory essay by the guest editors.
Madhumita Dutta has a paper in the above issue, Turning Productive Failures Into Creative Possibilities: Women Workers Shaping Fieldwork Methods in Tamil Nadu, India.

Max Woodworth, together with David Staley (History), receceived a Global Arts and Humanities Discovery Theme grant titled, "Asian Futures."
Alumni News:
Amanda Kass (Geog BA, 2008) is now a PhD candidate in Urban Planning and Policy at the University of Illinois at Chicago (UIC). She is also the Associate Director of the Government Finance Research Center at UIC's College of Urban Planning and Public Affairs. She also has a paper in the special issue edited by McSweeney and WinklerPrins, Working with Financial data as a Critical Geographer.
Upcoming Events:
This Friday we have our own Yue Qin, presenting, Air Quality, Climate, and Water Implications.

Next Friday (Jan 31) we have Sapana Doshi, now at University of California Merced: Racial Capitalism and the politics of Global Urbanization, A View from Mumbai.

Both talks are at 3:30 pm in Derby 1080.
Darla Munroe
Professor and Chair