August 31, 2020
News Brief from Our Chair Darla Munroe
Image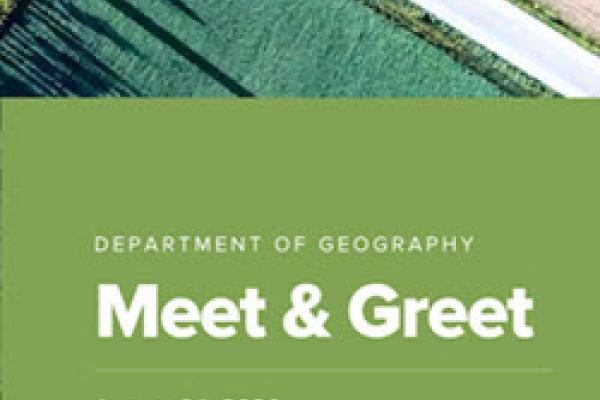 Description
This year's "Meet & Greet" for faculty, staff and students happened over Zoom. We did discover a lot of heavy metal fans among our community.
Faculty News:  
Huyen Le received College of Arts & Sciences support to participate in the Faculty Success Program from the National Center for Faculty Development & Diversity (NCFDD), a 12-week coaching and training program to help participants track and build their writing habits and a healthy work-life balance.

Kendra McSweeney received the Alexander and Ilse Melamid Medal for "outstanding work on the dynamic relationship between human culture and natural resources" from the American Geographical Society
Student News: 
Rohit Mukherjee defended his dissertation, titled "Improving Satellite Data Quality and Availability: A Deep Learning Approach."  The members of Rohit's committee consisted of Alvaro Montenegro, Srinivasan Parthasarathy (Computer Science and Engineering), Rongjun Qin (Civil, Environmental and Geodetic Engineering), and Desheng Liu (Advisor). James Jontes (Neuroscience) served as the Grad Faculty Representative.
Upcoming Events:
Our first speaker of the academic year is Robyn Wilson, Professor of Risk Analysis and Decision Science, School of Natural Resources and Environment, OSU, on Friday, September 25 at 3:30 pm and her talk is titled, Understanding climate adaptation decisions in the eastern Corn Belt.
Geography Blog: 
In coordination with OSU libraries, this Autumn semester's blog theme is Census 2020. Our first entry of the semester is penned by faculty member Ningchuan Xiao, Census Data: A Personal Note on Some Challenges and Successes.
Darla Munroe
Professor and Chair
---