April 22, 2022
News Brief from Our Chair, Darla Munroe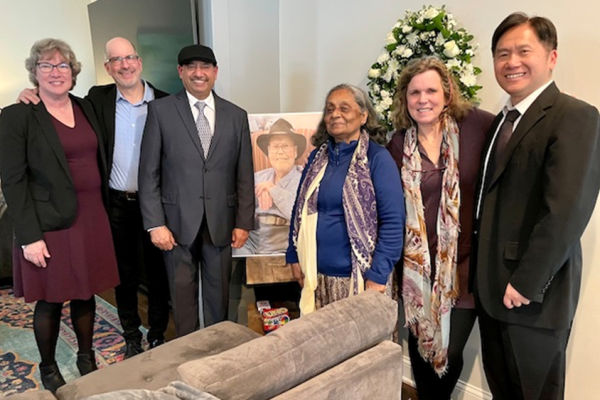 OSU Geography alumni return to pay respects to Duane Marble. L to R: Libby Wentz, Harvey Miller, Jay Sandhu, Lalita Sen, Darlene Eason and Lin Liu
Faculty News: 
Last night, we celebrated the completion of Kenneth Madsen's GEOG 3600: Space, Power, and Political Geography "Inside-Out Prison Exchange Program" as part of the Ohio Prison Education Exchange Project. This is the first OSU Geography class to be taught with both OSU students and incarcerated people. One of the women remarked, "Before I took this class, I didn't know how geography related to my life. Now, I can't think of a part of my life not related to geography!"
Student News:  
Jialin Li successfully defended his dissertation: "Computational Cartographic Recognition: Exploring the Use of Machine Learning and Other Computational Approaches to Map Reading." His committee members include Eric Fosler-Lussier (Computer Science & Engineering),  Desheng Liu, Harvey Miller and Ningchuan Xiao (advisor). After graduation, Jialin will be heading to the Windy City (aka Chicago, IL) to join a group of data scientists and start a new professional journey.
Alumni News: 
Blake Acton (Masters, 2020) and Harvey Miller were featured on a WEWS News Cleveland segment on their study showing the impact of bus rapid transit (BRT) on property values along the Healthline BRT corridor in Cleveland.
Upcoming Events:  
Our last speaker of the academic year is Scott Sheridan, Professor and Chair of Kent State Geography, Heat Vulnerability in a Changing Climate: Can We Acclimatize? 3:30 pm, Derby 1080 (with Zoom option).
Darla Munroe
Professor and Chair
---