May 6, 2022
News Brief From Our Chair, Darla Munroe
Image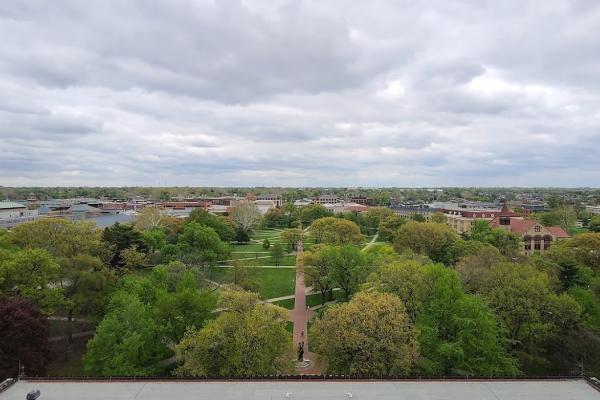 Description
Congratulations to all our graduates for Spring 2022! Enjoy your summer.
Faculty News: 
A review of Madhumita Dutta's book, Mobile Girls Koottam — Working Women Speak was featured in the Hindu Times.

Bryan Mark explained how climate change can make things worse for our power grid in this article for Energy News Network.

Kendra McSweeney's research, examining the devastating impact of U.S. drug policies on Indigenous people in Central America, was featured through the Faculty Research Initiative, College of Arts and Sciences.

Joel Wainwright and Bryan Weaver (Computer Science and Engineering) published another paper in the Annals on the relationship between Geography, the AAG, and the US military.
Student News: 
Alejandro Andonaegui successfully defended his Master's thesis entitled: "Security Culture, Abolition and a Diversity of Tactics: Digital-Physical Resistance in Portland."  His committee members include: Mat Coleman, Nancy Ettlinger (advisor), and Alistair Fraser (an alumnus of our graduate program). 

Anisa Kline (PhD candidate, Geog) recently received a Social Policy Research Grant from the Horowitz Foundation to support her dissertation project. The grants are awarded to projects that "promote scholarship with a social policy application and address contemporary issues in the social sciences."
Alumni News:
Laurel Bayless (2021) has an article in The Geographical Bulletin. Based on some of her undergraduate research, the article is titled, "Defining Humanity in the Popular Imagination: The Neanderthal and the Early Modern Human in H.G. Wells and Yuval Noah Harari."

Wes Haines (MS ASP 2013) recently received support for a company that he co-founded, HomeTown Ticketing. Details here.

After developing her undergraduate thesis in our department and finishing a one-year internship at the AAG, Sreya Juras (International Develpment, 2021) will be joining McGill University's MA program in Geography this autumn. Sreya will be advised by Oliver Coomes.
Darla Munroe
Professor and Chair
---