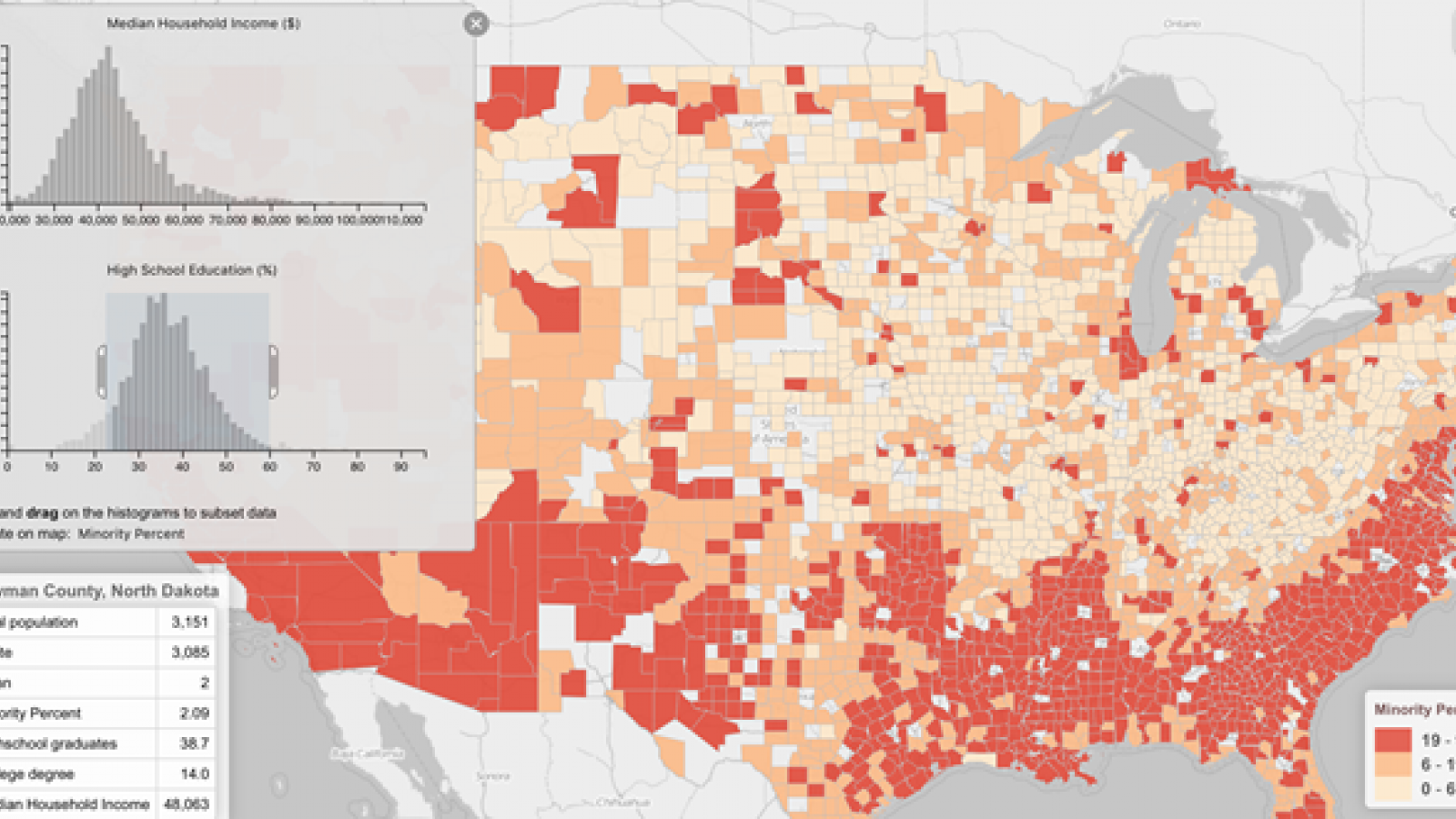 Ohio State is designated as a Center for Academic Excellence in Geospatial Sciences by the National Geospatial-Intelligence Agency and is among the nation's premier institutions in the development of geospatial technologies. Ohio State is a leader in the fields of cartography, spatial analysis, and geographic information technology. We offer two different degree options for students interested in GIS: a Bachelor of Science degree in Geographic Information Science and a Bachelor of Science in Geography with a specialization in Spatial Analysis.
What is GIS? Geographic information systems (GIS) allow us make informed, educated decisions based on geographic data. People intuitively understand maps. Trends and patterns become more apparent when viewed on a map. Maps are necessary for solving spatial problems. Knowledge of GIS and spatial analysis is crucial in today's interconnected and global society. GIS technology has many uses, ranging from emergency management and other city services, to business location and retail analysis, transportation and logistics modeling, regulating the spread of disease, monitoring local crime patterns, and managing natural resources.
Students majoring in both GIS and Geography with a specialization in Spatial Analysis will learn the tools, methods, and software necessary for managing and analyzing geographic information. Students will become skilled in a variety of computer technologies through coursework in surveying and measurements, technical mathematics, statistics, remote sensing, and graphics. An optional credential for GIS students is professional certification. Information on becoming a certified GIS Professional (GISP) is available from the GIS Certification Institute, the leading GIS certification organization in the United States.
Current Students Changing to the GIS or Spatial Analysis Major:  There are no required prerequisites or a required application to declare a major in Geographic Information Science or Geography with a specialization in Spatial Analysis.  However, it is strongly recommended that a student be in good academic standing and have successfully completed Math 1151 or is making progress to the completion of the required math sequence when declaring the major.
If you are a currently enrolled OSU student interested in the GIS or Spatial Analysis major, we recommend that you follow these steps:
Review the GIS and/or Spatial Analysis curriculum sheets
Make an appointment with a Geography Advisor 
GIS and Spatial Analysis Curriculums
---
Issues & Topics:
Mapping patterns
Population change
Migration
Urban Development
Ocean currents
Voting and elections
Issue analysis
Air pollution
Logistical Analysis
Unemployment
Land use change
Disease rates
Hazard incidence
Location optimization
Facilities/site selection
Mass transit routes
New construction
Implementation and presentation
GIS software
Modeling
Organization
Symbolization
Color usage
Acquired skills:
Critical skills
Critical thinking and reasoning
Oral and written communication
Research techniques and application
Visual design
Technical skills
Quantitative data analysis
Graphic communication (including map reading and geovisualization)
Graphics and statistical software packages
Computer programming
---
Careers:
Below is a partial listing of careers for which students majoring in Geographic Information Science or Geography with a specialization in Spatial Analysis are well-suited and where previous graduates have found employment.
Geospatial Analyst/Consultant for a metropolitan planning organization
Cartographer for the National Geospatial-Intelligence Agency or the U.S. Geological Survey
Manager/Planner: transportation, urban development, health services, land use
Project Manager for Woolpert, Inc.
GIS Software Developer for Esri
Real Estate Appraiser/Researcher
Shipper/Route Delivery Manager
Computer Systems Manager
Web Developer or Designer
Market Researcher/Analyst
Location/Site Selection Expert
Solutions Engineer
Information Technology