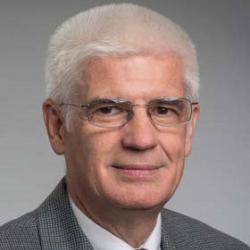 Jordan Pino and Steven Quiring were featured in a NASA documentary on the Soil Moisture Active Passive satellite mission (SMAP). In the documentary, Steven talks about its use in power outage modeling.
We are always delighted when students we have selected for awards are further recognized with external recognition in highly selective competitions.
Nora Sylvander was awarded an Alumni Grant for Graduate Research and Scholarship. As you will see below, she also received an award from Geography. Nora's adviser is Kendra McSweeney.
We are also delighted to repeat the terrific news that Ning Zhang was awarded a Presidential Fellowship. As you will see below, she also received an award from Geography. Ning's adviser is Steven Quiring.
"The Presidential Fellowship is the most prestigious award given by the Graduate School. Recipients of this award embody the highest standards of scholarship in the full range of Ohio State's graduate programs. Presidential Fellows will receive one year of full-time financial support to complete their dissertations unimpeded by other duties." Congratulations Ning!
At our Awards Ceremony last Friday, we made a number of very well-deserved presentations. With thanks to Mat Coleman and Becky Mansfield for guiding the nominations through their committees:
The Gary L. Sharpe Scholarship for Outstanding Undergraduates

Mason Estep
Kelli Grice
Eric Hegedus
Bryan Troyer
The Fenburr Undergraduate Scholarship for Women & Underrepresented Groups
Emily Lill
Madison Taylor
Tevian Whitehurst
Charles Clifford Huntington Scholarship for Outstanding Undergraduate Student-Geography Major
Megan Russell
Andrea Stanic
Edward J. "Ned" Taaffe Scholarship Scholarship for Outstanding Atmospheric Sciences Major
Stephen Maldonado
John-Morgan Manos
Fenburr Travel Scholarship for Outstanding Graduate Students
T.R. Lakshmanan & Lata Chatterjee Fellowship for Outstanding PhD Students
Rayner Scholarship for Fieldwork
E. Willard and Ruby S. Miller Fellowship Award
We were also delighted to recognize
James DeGrand with the S. Earl Brown Outstanding Staff Award
AND
Madhumita Dutta as a Lawrence A. Brown Faculty Fellow
The department was also delighted to recognize the significant service of Professor Ed Malecki. Ed will retire this month and has been named an Emeritus Professor. We are grateful to Ed for his loyal and valued service to the department since 2001 and to recognize his enormous contributions to his field over the span of his distinguished career.