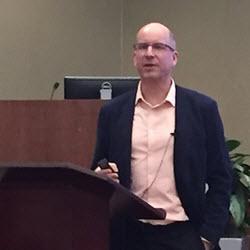 Harvey Miller presents as part of the panel at "Ohio's Opiate Epidemic: Impacts and Innovations," featuring Sam Quinones, author of Dreamland: the True Tale of America's Opioid Epidemic.
Faculty News:
Ola Ahlqvist accepted a position as Associate Vice Provost for Academic Enrichment in the Office of Student Academic Success, beginning March 1.

Kendra McSweeney was selected as a 2019 Joan N. Huber Faculty Fellow for Excellence in the Social and Behavioral Sciences.

Harvey Miller was a guest on WOSU's All Sides with Ann Fisher on Monday, March 4. Topic: COTA and free fares. The other guest was Patrick Harris, Director, Government Affairs and Special Projects at COTA.

Harvey Miller and Young Jaegal (PhD Candidate) published a paper in the Annals titled, "Measuring the Geometric and Semantic Similarity of Space–Time Prisms Using Temporal Signatures."

Joel Wainwright's recent book (Climate Leviathan, Mann and Wainwright, Verso) was mentioned in this political essay in the Washington Post.

Max Woodworth participated February 7 and 19 as a volunteer presenter at the annual Columbus Council for World Affairs Global Scholars Diploma program at Franklin University. The program is designed for Ohio high school students selected from school districts across the state to learn about global issues and about pathways to global careers. Two hundred students participated in his six presentations, which were focused on development and demographic trends in East Asia.
Student News:
Ariel Rawson (PhD candidate, Geog) and her advisor Becky Mansfield are participating in the STS@OSU workshop being held on campus March 7-8. The aim of the workshop is to generate connections among science and technology scholars in the Great Lakes region. They are presenting flash talks on their research, and Ariel is serving as a discussant for a work-in-progress discussion.
Alumni News:
Tim Hawthorne (PhD, Geog, 2010; now Assistant Professor at Central Florida University) is gearing up for his fourth year of their National Science Foundation Research Experiences for Undergraduates (REU) program "Preparing the Next Generation of Scholars through Community GIS and Citizen Science." The program offers fully funded summer research experiences for undergraduate students in Belize and Orlando for 7 weeks.

Brian Williams (MA, Geog 2013; PhD 2018, University of Georgia) has accepted a tenure track position in the Department of Geosciences at Mississippi State University, to start next January.
Upcoming Evets:
Our last two speakers are coming in March, rounding out this year's series, Global Africa.
Adélékè Adéẹ̀kọ́ (OSU Department of English) will be speaking on "Négritude, Afropolitanism, Migritude" on Friday, March 22.

Lonnie Thompson (OSU Earth Sciences and Byrd Polar and Climate Research Center) will present the Robinson Colloquium, "Linking Climate Records from African Ice Fields and Tropical Glaciers to Document Rapid Climate Change" on Friday, March 29.

Both talks will be in Derby 1080, 3:30 pm.
Darla Munroe
Professor and Interim Chair