May 10, 2019
News Brief from our Chair Darla Munroe
Image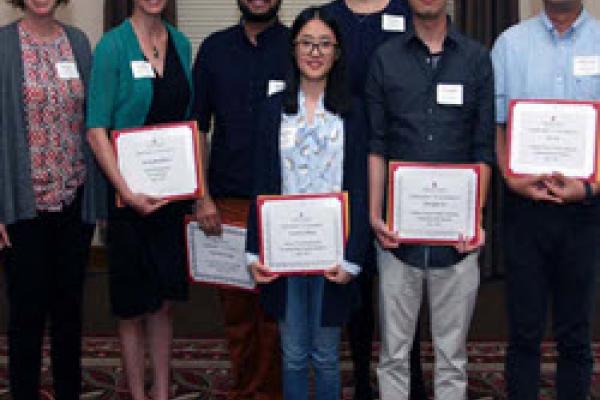 Description
Geography Awards and Graduation Reception. Graduate student awards from left to right: Jenny McGibbon (Rayner), Rohit Mukherjee (Lakshmanan Chatterjee), Yuechun Wang (Fenburr), Chengfei He (Miller) and Jinhyung Lee (Miller). Faculty: Becky Mansfield and Darla Munroe. Photo: Jocelyn Nevel.
Student News:
Jinhyung Lee (PhD candidate, advisor Harvey Miller) received a travel award to participate in the AAG-UCGIS Summer School 2019 on Reproducible Problem Solving with CyberGIS and Geospatial Data Science, to be held at the University of Illinois, Urbana-Champaign, in July.

Forrest Schoessow (PhD student, advisor Bryan Mark) won a Next Generation Innovator of the Year award from the Office of Research and the Corporate Engagement Office.
Alumni News:
Students graduating in SP 2019
| | | |
| --- | --- | --- |
| Name | Degree | Thesis Title |
| | ATMOSSC-MS | 'Future Changes to Species' Range Along the South American Coast Based on Statistically Downscaled SST Projections' |
| | GEOG-MA | 'Assessing the Dendroclimatological Potential of Polylepis rodolfo-vasquezii in the Cordillera Huaytapallana, Peru' |
| | GEOG-MA | 'Policing the Opioid Crisis' |
| | ATMOSSC-MS | 'Understanding Antarctic Circumpolar Current Transport at the LGM in an Isotope-enabled Climate Model' |
| | ATMOSSC-MS | 'Exploring microclimates in Great Basin National Park using and Embedded Sensor Network' |
| | GEOG-MA | 'Assessing the Impact of Public Transit System Redesign on Social Equity Using Space-Time Accessibility Measures' |
| | GEOG-PHD | 'Making spaces of difference: spatially exclusionary policies in resolving natural resource and territorial conflicts in Nicaragua's Bosawas Biosphere Reserve' |
| | ATMOSSC-MS | 'Modeling seagoing migration of early Homo via paleoclimate drift experiments to Sulawesi, Indonesia' |
| | ATMOSSC-MS | 'Investigating Soil Moisture–Precipitation Feedback on the North American Monsoon System in the WRF Model' |
Upcoming Events:
The Geography Department Kick-Off will be Monday, August 19th.
Darla Munroe
Professor and Interim Chair
---