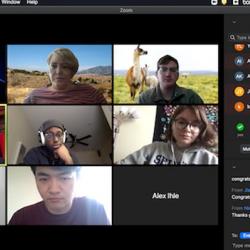 Geog 7101, Research Design, meets over Zoom, with guest speaker Madhumita Dutta.
Online Shift:
Beginning Monday, March 23rd, OSU moved to online delivery mode for the remainder of the semester. Faculty, instructors and graduate students had to quickly adjust coursework, which was made more challenging by working from home. Our ASC Tech staff member, Jens Blegvad, worked countless hours to give students access to lab computers remotely. I've been extremely grateful for everyone's adaptable, team-oriented spirit. Way to pull together, Geography!
Geography Blog:
This week's entry was penned by faculty member Steven Quiring, Climate change: the largest challenge facing humanity.
Student News:
Polina Berezina successfully defended her Master's thesis. Her thesis is titled "Enhancing Hurricane Damage Assessment from Satellite Images Using Deep Learning." Polina's committee consisted of Ningchuan Xiao, Srinivasan Parthasarathy (Computer Science and Engineering), and Desheng Liu (Advisor).
Alumni News:
Alex McCarthy (MS, ASP 2017) is the Director at Tuscarawas County Homeland Security and Emergency Management Agency. The Tuscarawas County Anti Drug Coalition just publicly thanked him for his excellent service and leadership in a Facebook post.
Upcoming Events:
Solve Climate by 2030, Power Dialog Webinar. The Byrd Polar and Climate Research Center is OSU's local host for a nationwide event on April 7 beginning at 5 pm, featuring our own faculty member and State climatologist, Bryan Mark.
Darla Munroe
Professor and Chair