July 24, 2020
News Brief from Our Chair Darla Munroe
Image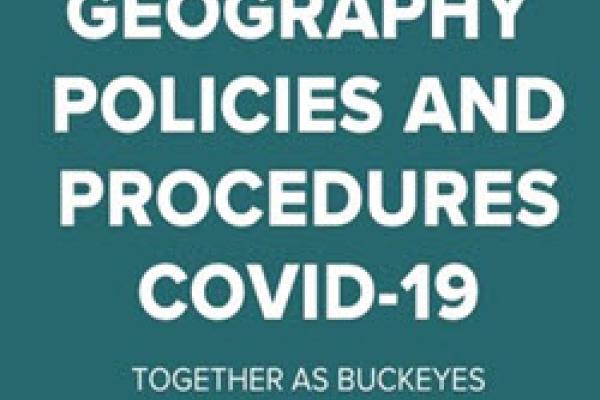 Description
Geography procedures for our safe return to campus.
and
Further information about Derby Hall Reopening.
Faculty News:
Becky Mansfield is co-PI on a new National Science Foundation award to build an Undergraduate Network for Increasing Diversity of Ecologists (UNIDE). This project aims to build a sustainable and interdisciplinary network of ecologists, educators and social scientists to address how cultural and social barriers impact human diversity in ecology and environmental disciplines (EE). The Principal Investigator is Maria Miriti in the Department of Evolution, Ecology and Organismal Biology
Student News:
Zhihao Wang successfully defended his Master's thesis. His thesis is titled "Land Cover Classification on Satellite Image Time Series Using Deep Learning Models." The members of Zhihao's committee consisted of Harvey Miller, Rongjun Qin (Civil, Environmental and Geodetic Engineering), and Desheng Liu (Advisor).
Zhihao will move to the University of Maryland, College Park to start a PhD program in Geography this fall.
Alumni News:
The Council of the American Meteorological Society (AMS), at its recent meeting, voted to award Rachel Mauk (PhD ASP, 2016) an Editor's Award for her outstanding service to the Monthly Weather Review. This award will be presented at the 101st AMS virtual meetings in January.
Geography Blog:
This week's blog features a discussion of the COVID-19 Dashboard developed by graduate students and faculty. This visualization tool helps the user explore the spatio-temporal dynamics of COVID-19 in multidimensional space. The implications and consequences of COVID-19 are related to many social, demographic, and economic factors. This entry was contributed by Armita Kar (PhD Student, Geography), Luyu Liu (PhD Student, Geography), Yue Lin (PhD Student, Geography), Ningchuan Xiao (Professor, Geography).
Darla Munroe
Professor and Chair
---