December 4, 2020
News Brief from Our Chair, Darla Munroe.
Image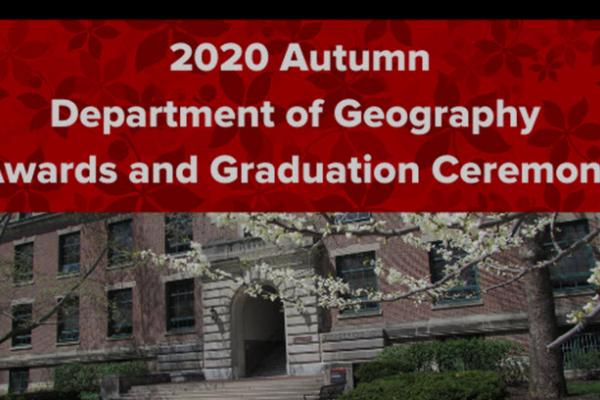 Description
2020 Autumn Dept. of Geography Awards and Graduation Ceremony.
Friday, December 11th 1 pm. Register HERE.
Faculty News: 
Geography Professor and Max Thomas Professor of Climate Dynamics Zhengyu Liu is among this year's American Association for the Advancement of Science (AAAS) Fellows. The AAAS elects Fellows as a special honor to recognize leading scientists and innovators. Other OSU awardees here.

Max Woodworth was interviewed for an article in the U.S. Chamber of Commerce in Taiwan's monthly magazine, Taiwan Business Topics, under the headline The Gini in Taiwan's Bottle. Max provides insights COVID, inequality and justice.
Student News: 
Young Jaegal successfully defended his PhD dissertation, "Measuring the similarity of network-time prisms and field-time prisms."  His dissertation committee consists of Elisabeth Root, Ningchuan Xiao, Morton O'Kelly, Giorgio Rizzoni (Graduate School Representative, from Mechanical and Aerospace Engineering) and his advisor, Harvey Miller.

PhD candidate Yuchen Li is lead author on a paper published in Nature Scientific Reports. This paper, co-authored with his advisor Harvey Miller and researchers in the College of Public Health, Wexner Medical Center and the local opioid treatment community, explores the spatial association of 311 service requests with opioid overdose events and other indicators of social distress in Columbus, Ohio. This study adds to the growing scientific evidence that opioid use disorder is rooted in part by social determinants such as poverty, isolation and social upheaval.

Luyu Liu (Geog PhD student) is lead author on a paper published in PLOS ONE that examines the impact on the COVID pandemic on public transit demand in communities across the United States. Communities with larger mixes of physical occupations, minorities, women and older people retained more transit demand during the pandemic. Public transit in the South and Midwest retained more demand than systems in large, coastal communities. Results suggest that public transit should be treated not as a business but rather as critical urban infrastructure supporting essential workers and vulnerable populations.

Pranav Padmanabhan (Geog Spatial Analysis student and research assistant in the College of Public Health) was featured in this article in the Dispatch: Ohio State dashboard helping Columbus-area schools spot COVID outbreaks among children.
Upcoming Events:
Our next speaker is Alyssa Battistoni of Harvard. Zero-Carbon Democracy? State and Capital in the Age of Climate Change. Friday, February 21st, 3:30 pm.
Geography Blog:
Rounding out our series this semester on the theme Census 2020, we have two final blog entries. 

From Jason Reece, Assistant Professor in City and Regional Planning, Subsidizing Luxury: Neoliberalism, Urban Redevelopment and the Geography of Educational Inequity.

Hyowon Ban, PhD Geog, now Associate Professor of Geography at Cal State Long Beach has penned Uncertainty Problems and Census Data: The 2020 Census & Exurbanization Example.
Darla Munroe
Professor and Chair
---