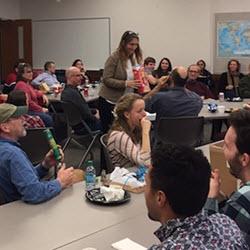 I hope everyone has had a happy, healthy and productive semester.
Kendra McSweeney peeks into a package at last year's White Elephant gift exchange. Photo: Morton O'Kelly, see full picture below.
Faculty News:
Desheng Liu is part of a team that was awarded a grant from the Gates Foundation to use aerial drones to monitor plant diseases. This system will hopefully allow crop managers to control diseases like rice blast and maize dwarf mosaic even before plants show visual symptoms. The Principal Investigator is Enrico Bonello from the Department of Plant Pathology.
Student News:
Congratulations to our Autumn 2018 Geography Department Undergraduate Award Winners! Each awardee will receive a $1,000 scholarship for the Spring 2019 semester.

Victor Mikus has been awarded the Fenburr Scholarship for Women and Underrepresented Groups.

The Lewis Family Scholarship was awarded to Alexander Bryan, Mackenzie Gilliland, Wyatt Guthrie, and Ruiyu Tan.

Xiaoran Wang, nominated by Ningchuan Xiao, is the recipient of the Robinson Award for Outstanding Undergraduates in Geography Information Science and Spatial Analysis.

Maeve Scully, nominated by Darla Munroe, was awarded the Huntington Award for Outstanding Undergraduates.

There are two recipients of the Taaffe Award for Outstanding Undergraduates in Atmospheric Science, and Climate and Physical Geography. They are James White, nominated by Ellen Mosley-Thompson and Bryan Mark, and Joshua Steiner, nominated by Steven Quiring.

Finally, we have two recipients of the Sharpe Scholarship for Outstanding Undergraduates. They are Jason Kindinger, nominated by Madhumita Dutta, and Isabella Niemeyer, nominated by Nancy Ettlinger
Important Dates:
The Geography Main Office will be closed on Monday, December 24th, Tuesday, December 25th and Tuesday, January 1st.
Spring 2019 classes begin on Monday, January 7th.
Kendra McSweeney peeks into a package at last year's White Elephant gift exchange. Photo: Morton O'Kelly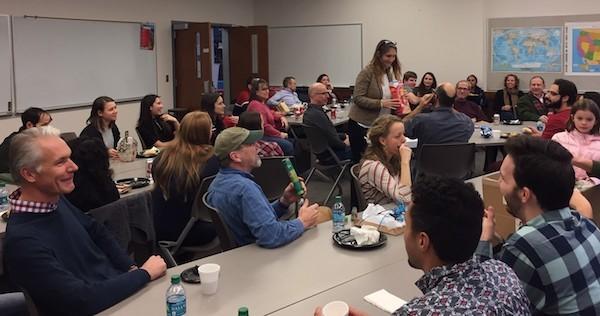 Happy Holidays, and all the best for 2019,
Darla Munroe
Professor and Interim Chair