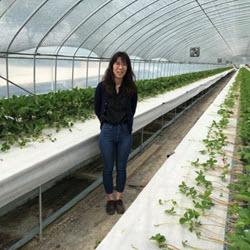 PhD student Sohyun Park is spending her summer studying the role of "breeder's rights" (patenting modified seeds) on the adoption of hydroponic-based farming systems in the South Korean strawberry industry.
Faculty News:
Becky Mansfield, Kendra McSweeney and Darla Munroe were all authors on a new paper, It's time to recognize how men's careers benefit from sexually harassing women in academia, published in the current issue of Human Geography.

Bryan Mark and Jim DeGrand, representing the State Climate Office of Ohio (SCOO), hosted the Ohio Climate Services Summit on Tuesday and Wednesday. This meeting brought together stakeholders in climate science and applied climatology from across the state to discuss data products, tools and services for people making decisions impacted by weather and climate. The meeting was attended by over 60 people and included representatives from federal agencies including NOAA and the National Weather Service, state agencies including the Office of the Governor, the Department of Agriculture, Ohio Emergency Management, and multiple municipalities including Cincinnati, Cleveland, Columbus and Toledo as well as numerous non-governmental organizations and interested parties.
Student News:
Congratulations to Debangana Bose, who successfully defended her PhD dissertation on June 4, "From 'Possessory Politics' to the Politics of Placemaking: The Urbanization of an Agrarian-Urban Frontier and Differential Governance of Informal Property Market in Delhi's Periphery."
Debangana's defense was a rich discussion with committee members: Madhu Dutta, Nancy Ettlinger (advisor), Becky Mansfield, Ursula Rao (Anthropology, University of Leipzig), Max Woodworth, and Ed McCoy (external examiner from the School of Environment and Natural Resources, OSU). Thanks to committee members and hats off to Debangana!
Xun (Jerry) Zou (PhD candidate, advisor David Bromwich) has been awarded a Presidential Fellowship for the next academic year. The title of her PhD dissertation is "West Antarctic Surface Melting during Austral Summer." This research is designed to achieve a better understanding of surface melting over West Antarctica, which will improve projections of potential ice loss and global sea level rise. The Presidential Fellowship is the most prestigious award given by the Graduate School.
Alumni News:
2019 graduate James White (BS, honors) completed a double major in Earth Sciences and Atmospheric Science, and won our Taafe award for outstanding achievement in our program. He was recently featured in the College of Arts and Sciences newsletter.
Darla Munroe
Professor and Interim Chair