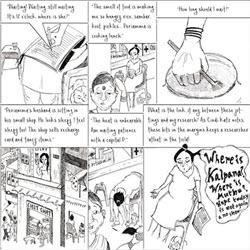 From this week's blog post. Comic illustration of faculty member Madhumita Dutta's field notes by artist Madhushree Basu for Dutta's forthcoming book Mobile Girls Koottam, through Zubaan Press.
Faculty News:
Ola Ahlqvist, Harvey Miller, Elisabeth Root and Ningchuan Xiao were part of a team led by Elizabeth Newton in the Glenn College of Public Affairs selected by the OSU Office of Research to hold an upcoming workshop, Propelling OSU to the Forefront of Geospatial Capability in order to Meet High-growth Public and Private Sector Needs and to Build its Reputation as a World-Class Geospatial Institution.
Student News:
Blake Acton passed his Master's exam last week. His research project, "The Effect of Bus Rapid Transit (BRT) on Property Values: A Comparison of Multiple Systems in the United States," compares 16 BRT systems across 10 cities with respect to residential development impacts. His committee consists of Huyen Le, Gulsah Akar (City and Regional Planning), and advisor Harvey Miller.

Luyu Liu (PhD student Geog) has a new paper with Harvey Miller stemming from his Master's thesis: "Measuring risk of missing transfers in public transit systems using high-resolution schedule and real-time bus location data," Urban Studies (special issue on Big Data in the city).

Geography Graduate Organization officers for the Academic Year 2020-21
President Emilio Mateo
Treasurer Zhiying Li
MA Social Chair Alex Ihle and John Temmen
PhD Social Chair Rebecca Chapman
Faculty Meeting Rep Brookes Hammock
GSC PhD Rep Yue Lin
Alumni News:
Gary Sharpe, one of our most distinguished alumni (BA, Geog) gave a virtual guest lecture for our Geography 2400 (Economic and Social Geography) class this week, taught by Ariel Rawson (PhD candidate). Gary's talk focused on medical supply chains in pandemic times. Gary is owner and Chairman of the Board of the company, Health Care Logistics, and a great champion for geography.
Geography Blog:
This week's blog was penned by faculty member Madhumita Dutta, reflecting on the underappreciated value of "jottings" in the margins of a fieldwork notebook
Darla Munroe
Professor and Chair