April 23, 2021
News Brief from Our Chair, Darla Munroe.
Image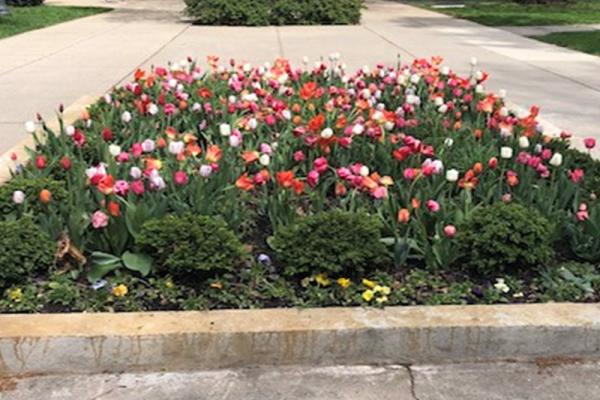 Description
The flowers outside of Bricker Hall survived the April snow earlier this week.
Faculty News:
Zhengyu Liu was featured in the Voices of Excellence podcast of the College of Arts and Sciences on using the past to predict the future of climate dynamics.

Kendra McSweeney received the OSU Distinguished Scholar Award for her exceptional research contributions. Read more here.
Student News: 
Fatima (Fay) Dahir,(BA student, graduating with research distinction in Geography (double major in Public Affairs and Geography) wrote an excellent thesis titled '#SomaliMeToo: Somali-American Relationship with Police and Restorative Justice in the Face of Sexual Violence' which she successfully defended (oral defense) on April 12. Her committee members were Mat Coleman, Jill Clark (Public Affairs) and Madhumita Dutta (thesis advisor). Fay has been awarded a one-year Young Professionals program fellowship CBYX and will be going off to Germany where she will take a couple months of German language courses, a semester of classes at a local university and then complete an internship at the Belgian branch of the Migration Policy Institute.

Armita Kar (PhD student, Geog) won a spring 2021 grant from the Sustainability Institute for her project, "Inclusive Accessibility: Integrating person-based qualitative and quantitative constraints into transportation planning."

Yue Lin (PhD student, Geog) won the 1st place in the Robert Raskin Student Competition sponsored by the AAG Cyberinfrastructure Specialty Group AAG Annual Meeting.
Jian Wang passed his PhD candidacy exam. His committee consists of Bryan Mark, Steven Quiring, Darren Drewry (Food, Agricultural and Biological Engineering), Gil Bohrer (Civil, Environmental and Geodetic Engineering), and Desheng Liu as advisor. His dissertation project will use satellite observations and models to understand the responses and feedbacks of vegetation greening to permafrost degradation.
Upcoming Events:
The virtual Spring 2021 Department of Geography Awards and Graduation Ceremony is at 4 pm on Friday, May 7th.
Darla Munroe
Professor and Chair
---