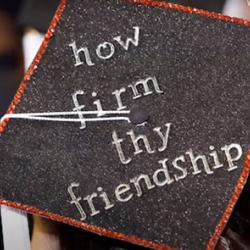 50 people attended our virtual Spring Departmental Awards and Graduation Reception. Congratulations, graduates!
Faculty News:
The Sustainability Institute produced a sustainable mobility video that includes faculty members Huyen Le and Harvey Miller providing their keen insights.

Harvey Miller was a guest on Transit Columbus "Happy Hour from Home." We had a wide-ranging conversation about mobility, sustainability, COVID-19, and bicycles.

Yue Qin is co-PI on a COVID-19 seed grant funded by the Office of Research. PI Daniel Gingrich, College of Engineering, is leading a project to quantify employment effects and environmental burdens resulting from investments in infrastructure in response to COVID-19 crisis.

Yue Qin has also been selected for the 2020 cohort of Training and Retaining Leaders in STEM - Geospatial Sciences (TRELIS-GS). TRELIS provides professional development for women in the geospatial sciences in higher education.

Joel Wainwright published a paper, "How not to think about climate change," in GeoHumanities.
Student News:
Jinhyung Lee (PhD candidate, Geog), Harvey Miller and Adam Porr of CURA have conducted innovative research using INRIX data to analyze the impact of COVID-19 related shutdowns on traffic in Ohio. This analysis has gotten a lot of recent press: in the Columbus Dispatch, on WOSU, Columbus Underground, and on WEWS-TV Cleveland.

Jialin Li, passed his PhD candidacy exam. Jialin's dissertation proposal is about "Machine Learning and Artificial Intelligence Methods for Understanding and Generating Maps." His dissertation committee includes Eric Fosler-Lussier (CSE), Desheng Liu, Harvey Miller, and Ningchuan Xiao as advisor. Jialin is jointly pursuing a Master's degree in Computer Science and Engineering.

Deondre Smiles (PhD candidate, Geog) has contributed a chapter to a report/toolkit published by the Sovereign Bodies Institute, a non-profit organization dedicated to advocating for missing and murdered Indigenous people, especially women, girls, and Two-Spirit individuals (MMIWG2). The toolkit provides a variety of resources to help advocate for MMIWG2; Deondre's section is entitled "Ethical and Respectful Engagement between Medical Examiners/Coroners and Indigenous Families and Communities". You can find the toolkit and other SBI reports here: https://www.sovereign-bodies.org/reports.
Jerry (Xun) Zou passed her PhD exam in Atmospheric Science. Jerry's dissertation title is "Investigation of Surface Melting in West Antarctica". Committee members were Alvaro Montenegro (co-advisor), Jay Hobgood, Ellen Mosley-Thompson and David Bromwich (advisor). Jerry has a 1.5-year postdoctoral position with the Byrd Center's Polar Meteorology Group.
Alumni News:
Jill Clark, PhD Geog 2009, now associate professor in the John Glenn College of Public Affairs, has received a Fulbright U.S. Scholar Award to Canada for "Scaling-up food democracy: An analysis of Canadian and US food policy councils." Clark will be conducting research at Carleton University in Ontario.


Darla Munroe
Professor and Chair