Friday, September 28, 2018 -

3:30pm

to

5:00pm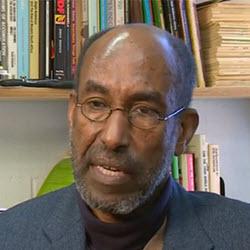 The Department of Geography Speaker Series presents The Taaffe Colloquium given by Abdi Samatar , University of Minnesota.
Title:
Africas First Democrats.pdf
Africa's First Democrats challenges established ways scholars have studied and framed leadership and governance in post-colonial Africa. The presentation (and the book it is based on) is an attempt to decolonize African Studies using historical geographic material from the continent in general and Somalia in particular. Embedded in the idea of decolonizing knowledge production are two intertwined conceptsand agendas. The first is the deconstruction of dominant ways of producing knowledge about "other people;" while the second step involves the creation of alternative knowledge about those societies and groups that have been relegated to a subject status by the dominant imperial powers and their knowledge producing partners. Africa's First Democrats attends to both of these agendas.


Abdi Ismail Samatar is professor of Geography at the University of Minnesota and a Research Fellow at the University of Pretoria, South Africa. He is the author of four books and over 70 articles and essays. Prof. Samatar's presentation is based on his most recent book titled "Africa's First Democrats: Somalia's Aden A. Osman & Abdirazak H. Hussen (2016). He is a member of the Board of Trustees of Mogadishu University and Kismayo University in Somalia.