Friday, September 15, 2017 -

3:30pm

to

5:00pm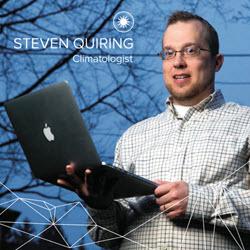 Geography Professor Steven Quiring to give a talk on,
Drought and Land-Atmosphere Interactions in a Changing Climate.
The relationship between soil moisture and precipitation is not well understood. Many global models indicate that there is a positive soil moisture-precipitation feedback (i.e. wet soils lead to increased precipitation). This directly contrasts with recent observation-based studies that indicate afternoon convective precipitation occurs preferentially over dry soils (negative soil moisture-precipitation feedback). These discrepancies have significant implications for climate change because if GCMs can not accurately capture land-admostphere interactions, projections of future changes in drought frequencey and severity may contain substantial bias. Development of a process-based understanding of the role of the land surface has been inhibited by the lack of soil moisture data at appropriate spatial and temporal scales. This presentation will provide an overview of our past observational analyses of the relationships between soil moisture and precipitation. It will also highlight our work using NASA SMAP to evaluate whether deep convection initiation occurs preferentially over wet or dry soils, and determine how soil moisture heterogeneity and gradients influence initiation of deep convection.
Quiring Flyer.pdf