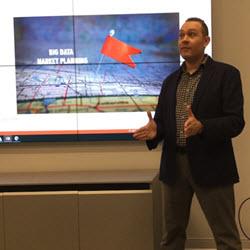 Sharpe Innovation Commons speaker Lawrence Joseph (KFC, Yum! Brands) discusses the use of big data and location intelligence tools in market planning and store siting. Video of the event found here.
Faculty News:
Harvey Miller's research on the opioid crisis in Ohio was featured in onCampus Today. Specifically, his team examines social and neighborhood factors that may be barriers to recovery treatment for opiate addicts.
Alumni News:
Fletcher Chmara-Huff (PhD Geog, 2011) is now Assistant Professor at Temple University. He has been working with Temple's dance department for the past 5 years to create new performances, and now a symposium, about global water issues every March 22: Artists, Activists and Scientists in Conversation around Water.
Upcoming Events:
Our last two speakers are coming in March, rounding out this year's series, Global Africa.
Adélékè Adéẹ̀kọ́ (OSU Department of English) will be speaking on Londoner, Americanah, Afropolitan: Three States of Being Global in African Literature on Friday, March 22.

Lonnie Thompson (OSU Earth Sciences and Byrd Polar and Climate Research Center) will present the Robinson Colloquium, "Linking Climate Records from African Ice Fields and Tropical Glaciers to Document Rapid Climate Change" on Friday, March 29.

Both talks will be in Derby 1080, 3:30 pm.
The American Association of Geographers Annual Meeting is coming up from April 3-7 in Washington, DC. Join us for an OSU Alumni Party on Thursday, April 4th. RSVP.
Darla Munroe
Professor and Interim Chair